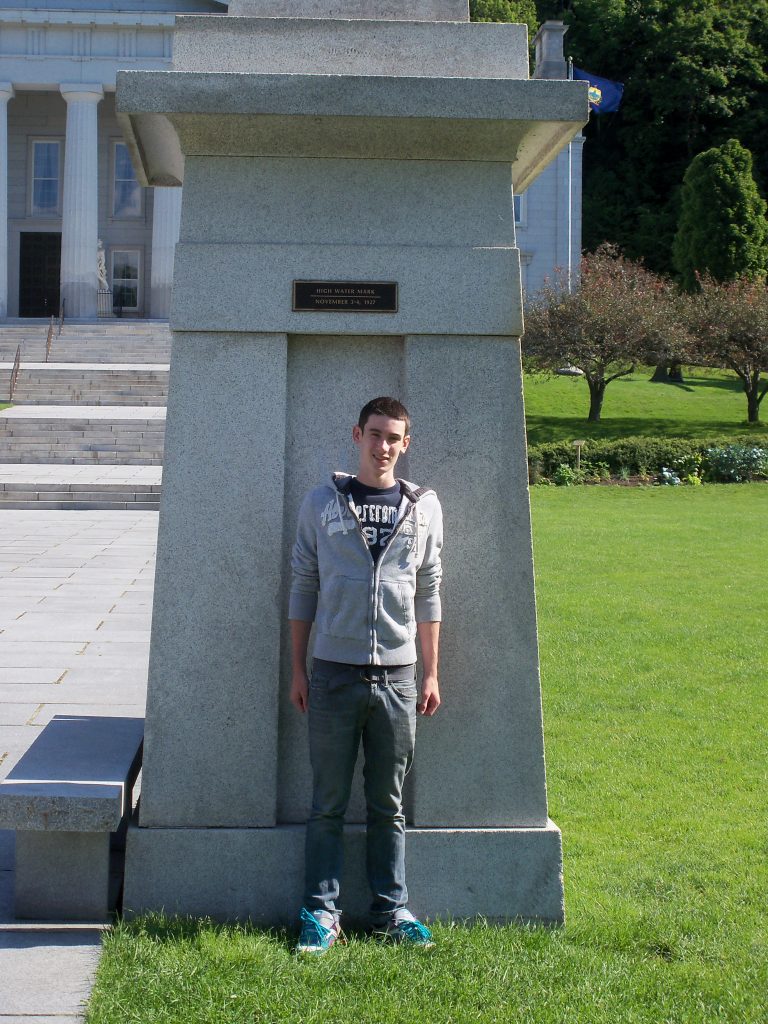 Cam came with me to a few states. Nice young man.
Monday, 28 November 2022
So, when he had considered this, he came to the house of Mary, the mother of John whose surname was Mark, where many were gathered together praying. Acts 12:12
Note: You can listen to today's commentary courtesy of our friends at "Bible in Ten" podcast. (Click Here to listen).
You can also read this commentary, with music, courtesy of our friends at "Discern the Bible" on YouTube. (Click Here to listen), or at Rumble (Click Here to listen).
Peter had just collected himself enough to know that what had taken place was real, not a vision. With that, it now says, "So, when he had considered this."
In realizing he was really free and that the things he would do going forward were not just a part of an ongoing dream, he had to consider what steps he should take. As such, he determined to first let the other believers know he was ok. As such, "he came to the house of Mary."
This may have been the house closest to where the angel departed from him and where trusted believers resided. He would have known his coming there would not jeopardize his freedom. Of this particular Mary, she is noted as "the mother of John whose surname was Mark." Concerning this name, Charles Ellicott provides the following details –
"Here we may note (1) that as being mentioned by St. Peter as his "son" (1 Peter 5:13) he was probably converted by him; (2) that he was cousin to Barnabas, probably through his mother, and was therefore at least connected with the tribe of Levi (Acts 4:36), and possibly belonging to it; (3) that the fact that Mary's house was the meeting-place of the Church indicates comparative wealth, as did Barnabas's sale of his estate; (4) that the absence of any mention of Mark's father makes it probable that she was a widow; (5) that the Latin name of Marcus indicates some point of contact with Romans or Roman Jews."
Although Ellicott's first point may be pressing the term "son," the other details seem likely. Paul calls Timothy a true son in the faith (1 Timothy 1:2) and then says of Titus that he is "a true son in our common faith." Despite that, Ellicott's other details seem probable. As for the names John and Mark, this doesn't mean that both names were conferred as legal names, but they were both used when referring to him. Most likely the Jews would have used John while the Greeks would call him Mark. This is common with many in the New Testament.
Of the house of Mary, it next says, "where many were gathered together praying." This follows logically after the words of verse 12:5 where it noted "constant prayer was offered to God for" Peter. It could be that some were awake and praying at any given time of the day or night. As those gathered got tired, they'd go lie down. When they got up, they would get back to prayers.
Life application: Peter could have just headed out of Jerusalem right away and had a letter sent back to the believers that he was ok. Instead, he weighed out the options and decided to let those who were certainly distressed over his situation know that he was fine.
Today, we have telephones and internet connectivity. Therefore, we can convey such things more readily. But when the power is out or a phone isn't handy, we should try to find some way of letting people know we are ok when they are concerned about us. Peter was careful to do this, knowing it would be a great relief to all. And more, they could change their prayers of petition to prayers of thanks and praise.
Let us walk through this world attempting to always be level-headed. When we keep our wits about us, we will have less stress and anxiety, and we will also be able to help those around us who may need the same calm assurances we have. By fixing our eyes on Jesus, this is possible. In Him, we can have the confident assurance that all is well.
Heavenly Father, thank You for the peace of life that comes from knowing Jesus. In Him, we can let all our other cares pass by without them negatively affecting us. And so, help us to keep our wits about us. In this, we can be a testimony to others of the peace we possess in our souls. Amen.