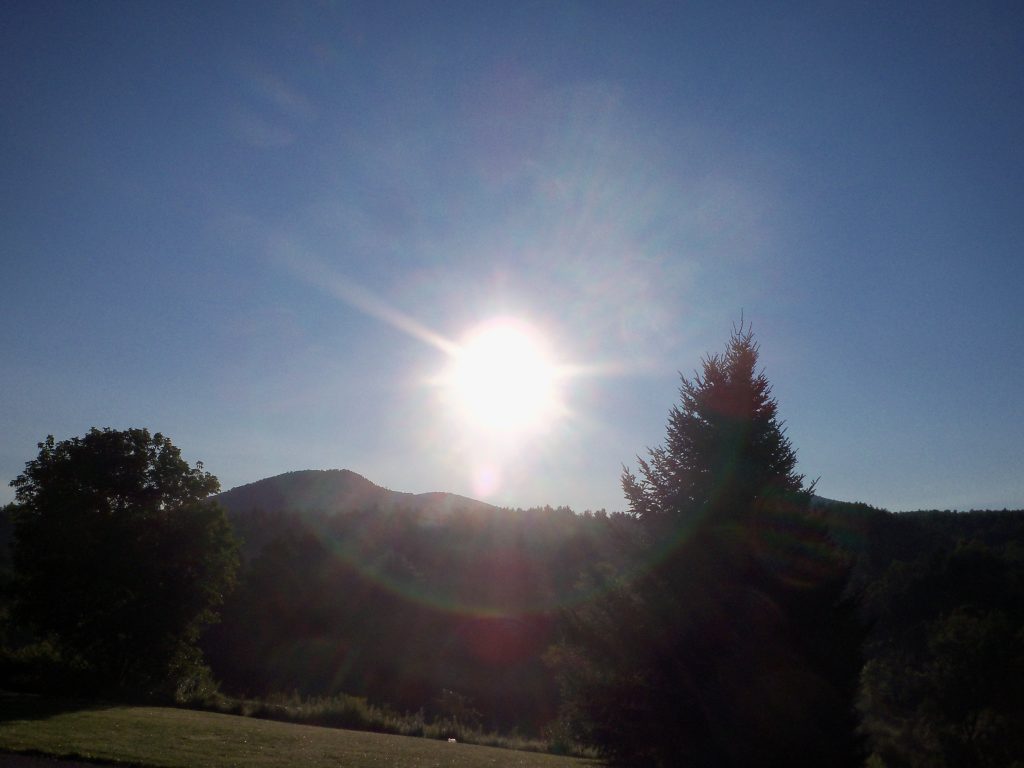 Start of a new day in Vermont.
Monday, 14 November 2022
Then one of them, named Agabus, stood up and showed by the Spirit that there was going to be a great famine throughout all the world, which also happened in the days of Claudius Caesar. Acts 11:28
Note: You can listen to today's commentary courtesy of our friends at "Bible in Ten" podcast. (Click Here to listen).
You can also read this commentary, with music, courtesy of our friends at "Discern the Bible" on YouTube. (Click Here to listen), or at Rumble (Click Here to listen).
The previous verse noted the prophets who had come down from Jerusalem to Antioch. Luke continues that thought now, saying, "Then one of them, named Agabus." This person, Agabus, is said to be one of the prophets. His name may come from the Hebrew agav, or love. But it seems more likely it comes from the Hebrew word khagav, meaning a grasshopper or locust. This was considered a clean insect that could be eaten by the Jews according to Leviticus 11:22. The word is used four more times in the Old Testament to indicate a comparison in size (Numbers 13:33 & Isaiah 40:22), a heavy burden (Ecclesiastes 12:5), and a devourer of the land that has been sent by the Lord (2 Chronicles 7:13).
As for Agabus, Luke next says that he "stood up." Rather, it is an aorist participle. It more appropriately reads, "having stood up." In other words, Luke sets him apart from the other prophets in order for him to make a prophecy. Agabus, having stood up, then "showed by the Spirit."
The word translated as "showed" is a verb that speaks of a sign, sémainó. In other words, he "signified" by the Spirit. He gave a word that was to be taken as a sign that something would come to pass. This coming event was "that there was going to be a great famine."
The reason for reporting this now will be seen in the coming verses, but other reasons which go unstated are that the New Covenant church, not Israel under the law, is given the word by the Spirit. It also shows that the famine which is coming could be prepared for by the church, both spiritually and physically, so that it would be able to continue and flourish. As for the famine itself, it is next said to be coming "throughout all the world."
The Greek word epi, or upon, is used. The famine will come "upon all the world." In saying "world," it is to be understood that this is referring to the known world, meaning the Roman Empire at this time. As Souter states, it is "the land that is being inhabited, the land in a state of habitation, the inhabited world, that is, the Roman world (orbis terrarum), for all outside it was regarded as of no account." Souter's evaluation of this is further confirmed by the next words, which say, "which also happened in the days of Claudius Caesar."
Claudius Caesar ruled over the Roman Empire. Hence, the focus is on that part of the world at large. The prophesied famine could be an isolated one and yet still be a fulfillment of this prophecy because a lack in one area of the empire would cause a disruption over the entire empire. This is something that occurs throughout the world today.
One nation may have a time of famine which then extends out even to countries that are not facing a famine because the supply lines of other things become disrupted. Despite this, Albert Barnes gives a highly detailed explanation of four famines that came upon the Roman Empire during the reign of Claudius –
—————————————
In the days of Claudius Caesar – The Roman emperor. He began his reign in 41 a.d., and he reigned for 13 years. He was at last poisoned by one of his wives, Agrippina, who wished to raise her son Nero to the throne. During his reign no less than four different famines are mentioned by ancient writers, one of which was particularly severe in Judea, and was the one, doubtless, to which the sacred writer here refers:
(1) The first happened at Rome, and occurred in the first or second year of the reign of Claudius. It arose from the difficulties of importing provisions from abroad. It is mentioned by Dio, whose words are these: "There being a great famine, he (Claudius) not only took care for a present supply, but provided also for the time to come." He then proceeds to state the great expense which Claudius was at in making a good port at the mouth of the Tiber, and a convenient passage from thence up to the city (did, lib. Ix. p. 671, 672; see also Suetonius, Claudius, cap. 20).
(2) a second famine is mentioned as having been particularly severe in Greece. Of this famine Eusebius speaks in his Chronicon, p. 204: "There was a great famine in Greece, in which a modius of wheat (about half a bushel) was sold for six drachmas." This famine is said by Eusebius to have occurred in the ninth year of the reign of Claudius.
(3) in the latter part of his reign, 51 a.d., there was another famine at Rome, mentioned by Suetonius (Claudius, cap. 18), and by Tacitus (Ann., John 12:43). Of this, Tacitus says that it was so severe that it was deemed to be a divine judgment.
(4) a fourth famine is mentioned as having occurred particularly in Judea. This is described by Josephus (Antiq., book 20, chapter 2, section 5). "A famine," says he, "did oppress them at the time (in the time of Claudius); and many people died for the lack of what was necessary to procure food withal. Queen Helena sent some of her servants to Alexandria with money to buy a great quantity of grain, and others of them to Cyprus to bring a cargo of dried figs." This famine is described as having continued under the two procurators of Judea, Tiberius Alexander and Cassius Fadus. Fadus was sent into Judea, on the death of Agrippa, about the fourth year of the reign of Claudius, and the famine, therefore, continued probably during the fifth, sixth, and seventh years of the reign of Claudius. See the note in Whiston's Josephus, Antiq., book 20, chapter 2, section 5; also Lardner as quoted above. Of this famine, or of the want consequent on the famine, repeated mention is made in the New Testament.
—————————————
Life application: Context is the main thing to consider when evaluating a passage. To take an idea out of its intended context will lead to a false understanding (a pretext) of what is actually being said. Because of the use of the Greek word translated as "world" in this verse, one could then say that "the Bible is only speaking of the Roman Empire" at other times as well.
In such an evaluation, all kinds of false ideas about who is to be evangelized, the duration of the evangelization of the gospel, and so on, will arise. Paul uses the same term translated as world in Romans 10:18 saying that the gospel has gone out to "the ends of the world." Therefore, the logic might be that the words of Jesus about preaching to all nations have been fulfilled. But Paul's point concerns the Jews having heard the word concerning Jesus and why the message would go out to the rest of the world after their national rejection of Him.
By taking thoughts like this out of their proper context, incredibly bad theology has arisen concerning the sharing of the gospel (or even if there is only one gospel), end times events, and so on. There is a job to do, it is to be done over the face of the entire planet and to all people groups and all nations, and it is inexcusable that people sit on their hands and avoid their responsibilities simply because of such poor interpretation of Scripture.
Context is king, so keep things in their intended context. Be sure to stay away from any teaching that puts the burden on someone else or some other timeframe for the gospel to be shared. It is our responsibility to share the gospel, the one and only gospel, with all people at all times. As for national Israel, they will eventually accept it as well. The book is written, and it will come to pass. As for individuals, speak! They need Jesus.
Gracious and merciful God, thank You for Your wonderfully good news, the gospel, that comes through faith in the full, final, and forever work of Jesus Christ our Lord. Praise to You forever and ever for what You have done. We are reconciled to You through Him! Hallelujah and amen.