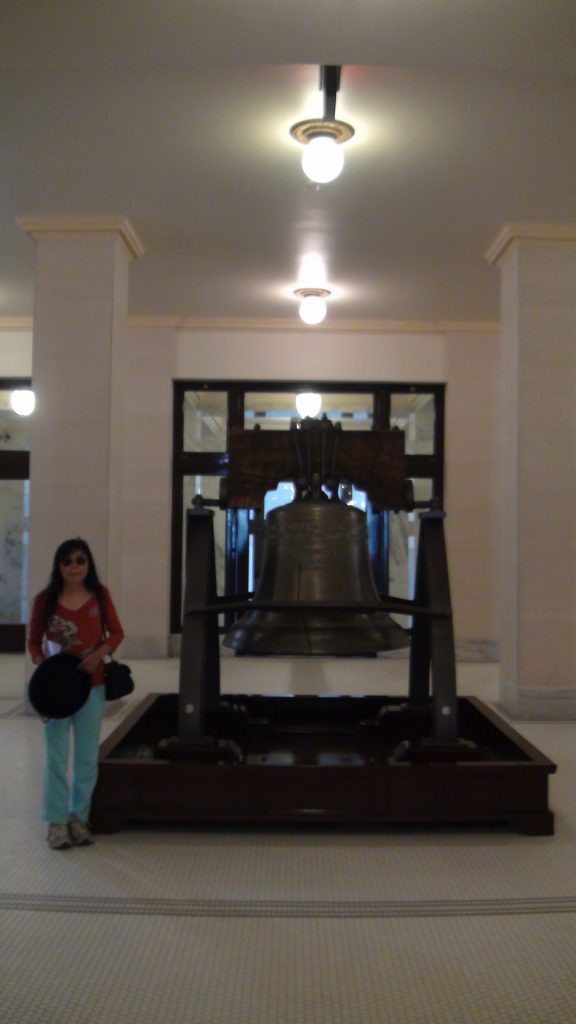 Replica of Liberty Bell, Utah Capitol
Saturday, 3 September 2022
And when the angel who spoke to him had departed, Cornelius called two of his household servants and a devout soldier from among those who waited on him continually. Acts 10:7
Note: You can listen to today's commentary courtesy of our friends at "Bible in Ten" podcast. (Click Here to listen).
You can also read this commentary, with music, courtesy of our friends at "Discern the Bible" on YouTube. (Click Here to listen), or at Rumble (Click Here to listen).
The previous verse had the messenger saying to Cornelius that Peter was lodging with Simon the tanner and that Peter would be the one to convey to Cornelius what he was to do. With that, Luke next records, "And when the angel who spoke to him had departed."
In verse 10:3, it said the messenger had come in a vision. Now it says that he had departed. This tells us that he really was there, even if it is in a manner we cannot readily understand. One cannot come and then depart unless he is present at some point, and yet a vision is normally something that is thought of as being a one-sided event, actually only occurring in the perception of the one having the vision.
But this isn't really so. In 2 Kings 6, there is an account of the Syrians coming to make war against Israel. One of the servants of Elisha saw the army and was afraid, but Elisha told him, "Do not fear, for those who are with us are more than those who are with them" (2 Kings 6:16). After that, Elisha prayed, asking the Lord to open his servant's eyes. When he did, it said, "And behold, the mountain was full of horses and chariots of fire all around Elisha" (2 Kings 6:17).
Thus, there is a realm that exists, and which can be perceived when the Lord allows it to be so. Cornelius was allowed to see into it in order to receive the words of the messenger. Now that time is ended and so it says that "Cornelius called two of his household servants."
In verse 10:2, it said that Cornelius was "a devout man and one who feared God with all his household." This would have included these two because they are a part of his household. Luke next continues with, "and a devout soldier from among those who waited on him continually."
It is the same word used to describe Cornelius himself in verse 10:2. This was a respectful, reverent soldier that was assigned under Cornelius who was obviously highly trusted and who would understand the weight of the matter that would be taking place as it unfolded. Of these words, Charles Ellicott says, "It is obvious that all such facts are interesting as throwing light on the character of Cornelius, and showing that, to the extent of his power, he sought to lead those over whom he had any influence to the Truth which he had found precious as leading him to a higher life."
Despite being pagan, Cornelius understood his accountability before God. But it wasn't something he just carried around inside of him without instilling that in others. Rather, to his utmost, he expected this conduct of those who he held close to himself in his household and in those under his charge.
Life application: Although it is impossible to tell the level of godliness of Cornelius in comparison to all of the other people on the earth who were alive at his time, we could pick an arbitrary number on the bell curve based on the description of him in Acts. Assuming he was just as described, and he was described this way because he was exceptional, then we might pin him in the top five percent of people who were devout and god-fearing.
Supposing that this is so, we could then say, "Well, if anyone had a right to boast before God, it would be him." And yet, Paul says of Abraham, the father of those who believe –
"What then shall we say that Abraham our father has found according to the flesh? 2 For if Abraham was justified by works, he has something to boast about, but not before God. 3 For what does the Scripture say? 'Abraham believed God, and it was accounted to him for righteousness.' 4 Now to him who works, the wages are not counted as grace but as debt." Romans 4:1-4
As godly and devout as Cornelius was, he was – like Abraham – wholly in need of God's grace. God is not grading humanity on a bell curve. He is evaluating man based on His infinite perfection. Because of this, all people stand condemned before Him (John 3:18). We must be imputed His perfection, or we must be forever separated from Him, because of His perfection. It is Jesus Christ, and He alone, who makes this possible.
Cornelius will be told what he must do. The choice is up to him. Will he depend on his own supposed righteousness, or will he set that aside and believe the gospel which highlights his own insufficiency before God? To accept that Jesus Christ died for our sins is to admit that we have sinned. God cannot fellowship with a person who denies his obviously fallen state. But even if someone does acknowledge that he is a sinner, God cannot fellowship with him merely because of this. Such a person must accept the remedy to his state. That remedy is Jesus. Be sure that people know. In knowing, and in accepting what they now know, only then can God receive them.
Lord God, thank You that, because of Jesus Christ, we have forgiveness of sins and the hope of eternal life. We may be devout without Jesus, but never enough that we can be accepted by You. Rather, we need His perfection, and You have offered it to us by grace. May those we talk to be willing to accept the premise, have the faith needed, and then be reconciled to You. Help us to share this life changing word. Amen.