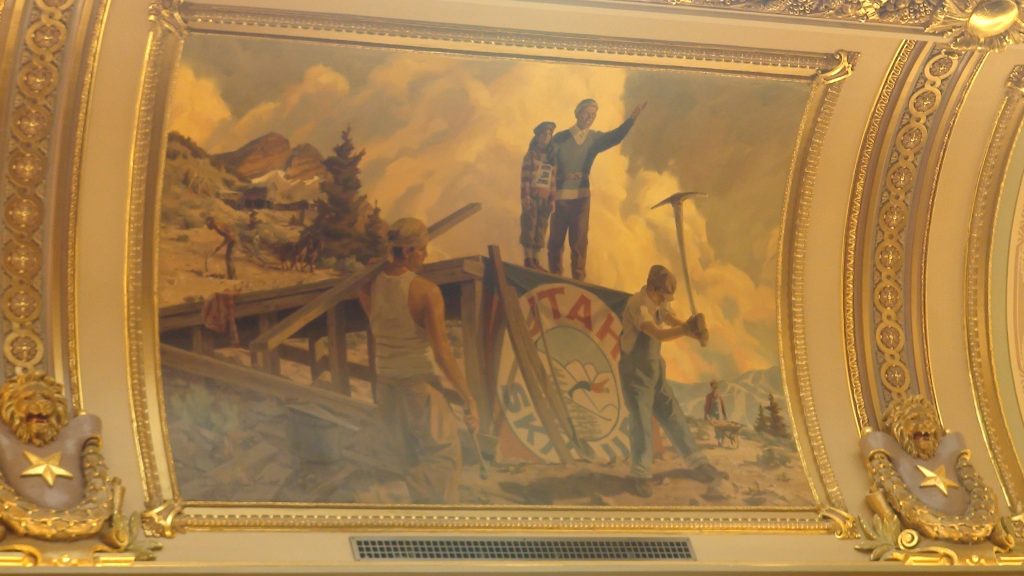 Painting at Utah capitol building.
Wednesday, 5 October 2022
The word which God sent to the children of Israel, preaching peace through Jesus Christ—He is Lord of all— Acts 10:36
Note: You can listen to today's commentary courtesy of our friends at "Bible in Ten" podcast. (Click Here to listen).
You can also read this commentary, with music, courtesy of our friends at "Discern the Bible" on YouTube. (Click Here to listen), or at Rumble (Click Here to listen).
Peter is responding to the reason why Cornelius had summoned him. He just noted that those who fear God and work righteousness are acceptable to Him. He continues now, beginning with, "The word."
Peter is now going to convey the divine utterance of God, the word, that came to those of Israel. He understands more fully now that this divine declaration was not to be limited to Israel at all, but that it is a word that is to extend beyond its borders to all people. With that, Peter continues by sharing what the word is. It is that "which God sent to the children of Israel."
This is exactly what the law and the prophets indicated. There was the law, but it was spoken in a manner that indicated there must be One who would come and fulfill it. From there, the prophets spoke of this coming One, hinting at His ministry and how He would accomplish the things set before Him. Within the prophets was also the promise of a New Covenant. That New Covenant was promised to the people of Israel –
"Behold, the days are coming, says the Lord, when I will make a new covenant with the house of Israel and with the house of Judah—" Jeremiah 31:31
In reading this, one might assume that the covenant was limited to Israel and Judah, but that would be a myopic view of the matter. Rather, though it is made with the house of Israel and Judah it was never intended to be limited to them. Rather –
"And now the Lord says,
Who formed Me from the womb to be His Servant,
To bring Jacob back to Him,
So that Israel is gathered to Him
(For I shall be glorious in the eyes of the Lord,
And My God shall be My strength),
6 Indeed He says,
'It is too small a thing that You should be My Servant
To raise up the tribes of Jacob,
And to restore the preserved ones of Israel;
I will also give You as a light to the Gentiles,
That You should be My salvation to the ends of the earth.'" Isaiah 49:5, 6
This is the word that Peter is now conveying to Cornelius, explaining that God was "preaching peace through Jesus Christ." The translation is correct, cleaning up the faulty rendering of the KJV which says, "by Jesus Christ." It is God in Christ who preached through Jesus. Jesus is the means of God transmitting the message. One can see the human united with the divine in this. It is a necessary point of doctrine that Jesus Christ is God rather than just a created being. God has accomplished all things through Jesus directly. And thus, Peter says, "He is Lord of all."
The words are their own independent part of the divine declaration. Jesus Christ is not just the Lord over Israel but over all people. The message that God in Christ preached through Jesus is a single, unified message that issues to all people. One must remember that Peter had just said in verse 10:34, "In truth I perceive that God shows no partiality." What is being expressed by him concerning the word, the divine utterance of God, is as much of a surprise to him as it might be to Cornelius.
It may be true that Peter knew there is only one God, but he assumed that the message of peace was one limited to Jews alone. He now perceives that this is not the case. The Mosaic Covenant was with Israel alone. The New Covenant, though being made with Israel and Judah, extends out to all who will accept God's offer of peace through Jesus.
Life application: The substance of the gospel is to be found in Peter's words of this and the coming verses. It teaches that Jesus is God incarnate. It teaches that Jesus died for sins. It implicitly teaches that Jesus was buried, and it teaches that God raised Him on the third day. This is the exact same message that Paul will express in 1 Corinthians 15:3, 4. It is the reason that Paul then says, while speaking of Peter and the other apostles –
"Therefore, whether it was I or they, so we preach and so you believed." 1 Corinthians 15:11
This is the one and only gospel given by which men must be saved. Luke is providing a description of what Peter said for us to understand that what God has determined sets the boundaries for salvation, whether it is for that of a Jew, for that of a Gentile, or for that of national Israel. The message is the divine declaration of God that tells us of His incarnation in the Person of Jesus Christ.
Lord God, thank You for the wonderful thing You have done. You have spoken forth Your message concerning the coming of Christ, and He spoke forth the good news to the world. We have a full and complete explanation of this through the words of the apostles, telling us of this wonderful thing. Thank You, O God, for Jesus Christ our Lord. Amen.