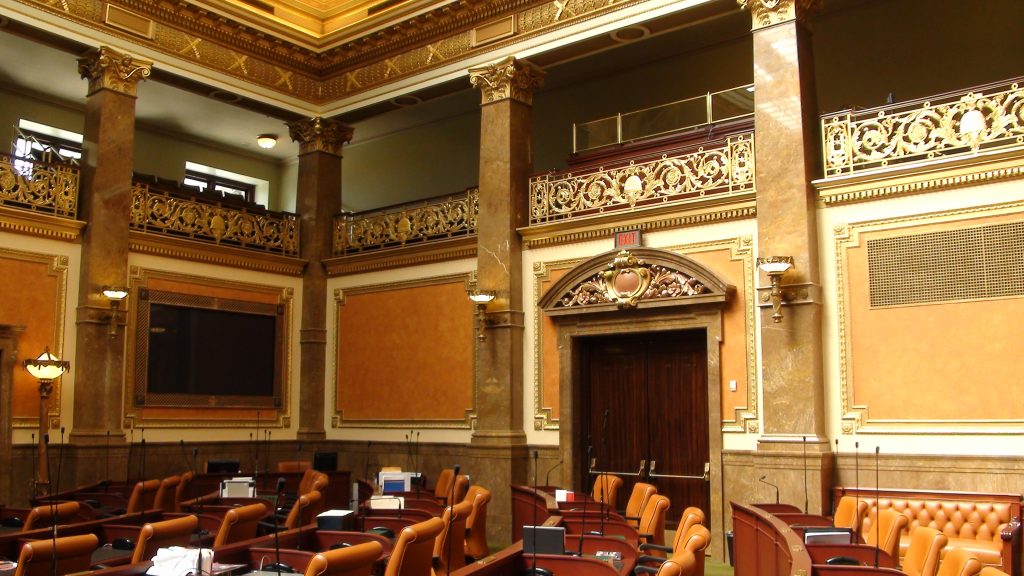 State Senate, Salt Lake City, Utah
Sunday, 2 October 2022
So I sent to you immediately, and you have done well to come. Now therefore, we are all present before God, to hear all the things commanded you by God." Acts 10:33
Note: You can listen to today's commentary courtesy of our friends at "Bible in Ten" podcast. (Click Here to listen).
You can also read this commentary, with music, courtesy of our friends at "Discern the Bible" on YouTube. (Click Here to listen), or at Rumble (Click Here to listen).
In the previous verse, Cornelius continued his reason for having Peter called, as he conveyed the words of the messenger from God. Now, he finishes this side of the conversation, beginning with the words, "So I sent to you immediately."
This is exactly what happened as was stated in verses 10:7, 8 –
"And when the angel who spoke to him had departed, Cornelius called two of his household servants and a devout soldier from among those who waited on him continually. 8 So when he had explained all these things to them, he sent them to Joppa."
Not even waiting for the next day, he had immediately followed through with the words spoken to him. With that, he next says to Peter, "and you have done well to come." The words more appropriately read, "and you did well, having come."
Cornelius acknowledges Peter's presence, demonstrating gratefulness through the words conveyed. It is the same formula used when Paul addressed those at Philippi –
"Everywhere and in all things I have learned both to be full and to be hungry, both to abound and to suffer need. 13 I can do all things through Christ who strengthens me.
14 Nevertheless you have done well that you shared in my distress." Philippians 5:13,14
After his compliment to Peter, he begins his finishing thought, saying, "Now therefore, we are all present before God."
Cornelius acknowledges on behalf of all assembled his understanding of God's omnipresence and ability to discern the hearts of those assembled. Even if his understanding of the nature of God was limited, he had deduced enough to know that God was fully sovereign over His creation, including His creatures, and that He had expectations of man who walked in His presence. His words convey the idea that God was attending the meeting with the same attention that He had when He created the universe. Having noted this, he finishes with, "to hear all the things commanded you by God."
The Alexandrian text, used by many translations, says, "to hear all the things having been commanded you by the Lord" (BLB). Determining which is original, God or Lord, is difficult. If Cornelius was either aware of Jesus, or if Peter had told him he was a messenger of Jesus as they entered in verse 10:27, then saying "Lord" would make more sense. If Cornelius was not yet aware of Jesus yet, then saying "God" would make more sense.
The coming verses do not really clear that up and could be taken either way, but because Jesus is God, it doesn't change the overall narrative greatly. God sent Jesus to accomplish His mission. The command rested upon Jesus, and He fulfilled it, including giving His commands to the people. Peter was fully aware of this, and he had been given his further commission during the trance which was specifically tied to his speaking to Cornelius.
Peter will explain the ministry of Jesus going back to the time of John's baptizing, including the words "that word you know, which was proclaimed throughout Judea." However, this doesn't necessarily mean that Cornelius was aware that Jesus was the Messiah. All it means is that he had likely heard about Jesus in some fashion. This is certain because it will go on to say –
"Him God raised up on the third day, and showed Him openly, 41 not to all the people, but to witnesses chosen before by God, even to us who ate and drank with Him after He arose from the dead." Acts 10:40, 41
If the resurrection was not known to all the people, then it means that not all the people knew that Jesus was, in fact, the Messiah. As such, the story in Cornelius' mind may be that another failed messianic figure had come among the people. The extent that Cornelius had of who Jesus was cannot be known. But what he will need to know will be fully presented as the verses continue.
Life application: It is rare to come across a person who has never heard of Jesus, even people in other cultures around the world usually have some limited knowledge of Him. This is no different than most people having heard of Buddha or Muhammed. Just because someone has heard of a person, it doesn't really tell you much about the extent of that person's knowledge.
In the US today, knowing there was a "Jesus" who started Christianity is almost universal. And yet, even in supposed Christian churches, there may be very little knowledge beyond that about who He is or what is expected by Him. Our responsibility as saved believers in Jesus is to explain the meaning of Jesus' coming and what it means to the state of humanity.
Once the truth of Jesus has been explained, there is still the necessary instruction that not only is He God and that He is the focus of the gospel, but it should be explained that He is the only path of restoration with God. This is not a part of the gospel itself, but it is an important point about Jesus that should be explained. If not, there may remain confusion in people's minds about the exclusivity of what Jesus has done. This should not be the state of anyone who has accepted the simple gospel.
The sooner sound discipleship is introduced, the chances will be all the better that this person will rightly repeat the message of Jesus to others. And so, be prepared to give the important basic points about the faith that will keep that individual, and those he next talks to, from heading down erroneous paths of thinking.
Lord God, help us to be clear in our presentation of who Jesus is and what He means to the state of all people before You. Give us wisdom in our presentation of Him, and help us to be strong in our stand concerning those points about Him that must be conveyed for a new believer to be solidly grounded in his thinking about the faith. Amen.