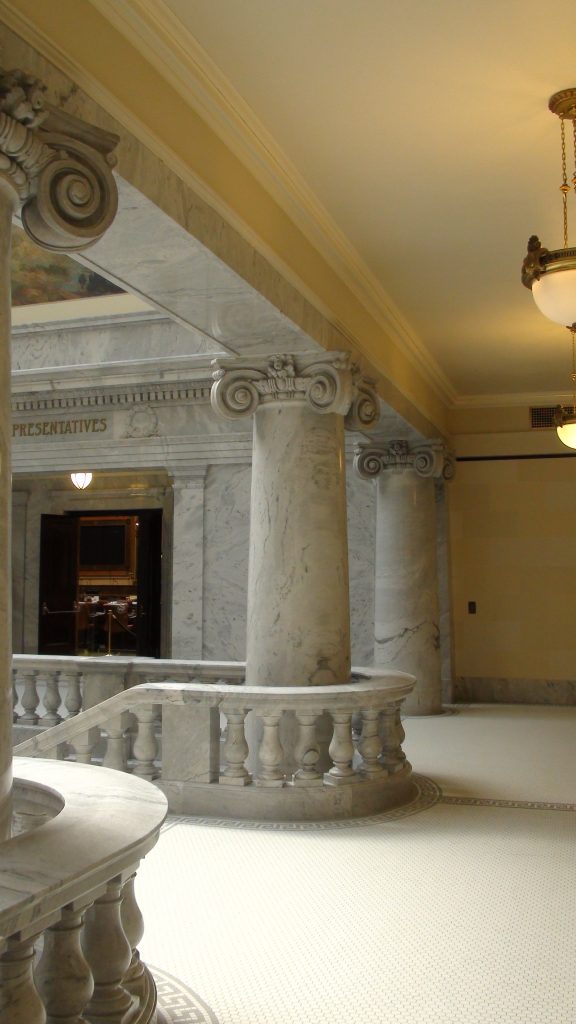 Lots of marble. Capitol of Utah, Salt Lake City.
Sunday, 25 September 2022
"Therefore I came without objection as soon as I was sent for. I ask, then, for what reason have you sent for me?" Acts 10:29
Note: You can listen to today's commentary courtesy of our friends at "Bible in Ten" podcast. (Click Here to listen)
You can also read this commentary, with music, courtesy of our friends at "Discern the Bible" on YouTube. (Click Here to listen), or at Rumble (Click Here to listen).
Peter, having gone into the house of Cornelius, said to those inside, "You know how unlawful it is for a Jewish man to keep company with or go to one of another nation. But God has shown me that I should not call any man common or unclean." With that, he next says, "Therefore I came without objection."
Here is a word found only once in Scripture, anantirrétós. It is an adverb meaning without hesitation or promptly, but it carries with it the sense of without opposition or objection. The matter was set forth and Peter immediately agreed to come, based on Cornelius' request. This was obviously initiated by the trance in which he heard the voice and saw the vision. Based on that, and based on the words of the messengers of verse 10:22, he knew that this was a matter that God had determined to come about. And so, he says, that he came "as soon as I was sent for."
They left on the next day, obviously meaning that the day was expired enough that a stay at the house of Simon the tanner was necessary before actually departing. On the next day, they left and started the journey to Caesarea. Now that he had arrived, he immediately asks for clarification of the summons with the words, "I ask, then, for what reason have you sent for me?"
Verse 10:22 explained the reason sufficiently for Peter to depart with the messengers. If there was anything else that they knew, it is certain that they talked about it on the way to Caesarea. And so, what Peter is asking for is a more detailed explanation directly from the mouth of Cornelius. This will allow the entire event, from the first moments until the present, to be brought out in front of all of those gathered with him. Whatever God had wanted to occur would be completely expressed in the presence of all, thus providing an entire house filled with witnesses.
Life application: There are times in recorded Christian history, even in recent history, where a multitude of people have gathered together and claimed Spirit-led revelation. In fact, it happens in many churches every Sunday. Visiting one of those churches, it is obvious that what occurs does not match what is prescribed in the Bible. As such, the events cannot be of the Spirit.
One could then say, "Well then, how can you say that what is recorded in the Bible is any different? Where is the proof?" Obviously, there is no proof. However, there is sufficient evidence within Scripture to establish that what is recorded there is reliable. Anyone who truly determines to find out if Scripture is telling the truth will find out that it is. The finest minds of the last two thousand years have studied this book and found it reliable. And more, those who have vehemently tried to oppose it in order to have it proven false have failed to do so.
There will naturally be an element of faith required in accepting the message of the Bible and the reliability of accounts like this particular event recorded in Acts 10, but this is not a blind step of faith into the unknown. Rather, it is a step of faith into God's revealed light that has been carefully recorded and upheld throughout the millennia.
On the other hand, those gatherings mentioned above that do not match with Scripture cannot be reliably trusted, no matter how many people are involved. Mass psychosis occurs among people all the time. It happens among secular populations, among adherents to various religions and cults around the world, and it happens within uninformed or purposefully manipulated bodies of those gathered under the umbrella of Christianity.
There must be a standard by which those things are based, and that standard must be the basis of the faith. As Jesus is the basis of the faith, and as the word of God is the instrument by which God explains Jesus, then such events must be based upon an accurate analysis of the word of God in order to be true.
A simple example of this is the speaking of tongues. Scripture defines what tongues are, meaning a known language. Scripture says –
"If anyone speaks in a tongue, let there be two or at the most three, each in turn, and let one interpret. 28 But if there is no interpreter, let him keep silent in church, and let him speak to himself and to God." 1 Corinthians 14:27, 28
If a gathering does not match these parameters where tongues are spoken, then it is not led by the Spirit. That is perfectly simple to determine. Determining whether something is of God or not is to be conducted in this manner.
The modern Pentecostal movement, which was spawned by the Azusa Street revival, was filled with speaking in tongues by the entire audience. As this does not conform to what Paul said as he was led by the Spirit to write Scripture, and as Pentecostal gatherings to this day continue to not match what Scripture says, then it is obvious that this is a false movement based on something other than the Spirit of God.
Be wise, be discerning, and learn your Bible – in context.
Glorious God Almighty, thank You for Your word. By knowing it and applying it to our lives, we can be kept from false teachers and false gatherings of people who claim special powers and gifts. We have a record of how the church was established and of the miracles that took place when it was. What more do we need? We can now live by faith in what You have done. Thank You that Your word is sufficient for our lives, doctrine, and the practice of our faith. Amen.