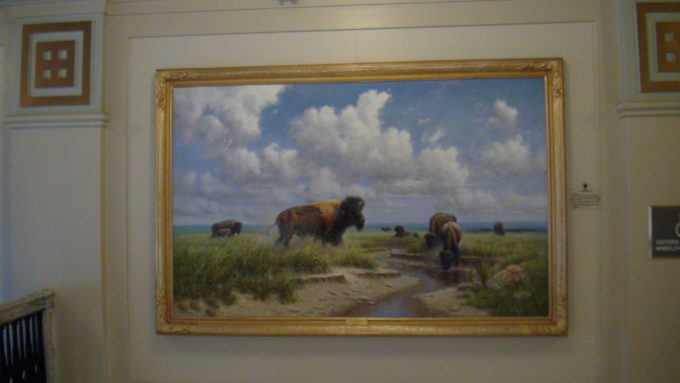 Friday, 10 April 2020
But the anointing which you have received from Him abides in you, and you do not need that anyone teach you; but as the same anointing teaches you concerning all things, and is true, and is not a lie, and just as it has taught you, you will abide in Him. 1 John 2:27
Here John now makes a positive statement concerning believers, as he did in verse 2:2. It begins with an emphatic "you" in it. The verb is in the aorist tense as well. The Greek more precisely reads, "And you, the anointing you received."
It is a fact that occurred, and its effects continue on. With that emphatic and sure statement made, he then says, "from Him." It is speaking of the anointing which comes from the Anointed One, Christ Jesus. By faith in Christ, one is anointed with the Spirit of Christ. John says this anointing from Him "abides in you."
The tense of the verb is present. It is an ongoing thing with continuing effects. As Albert Barnes rightly notes, "…it is an incorruptible seed, and a living principle, which can never be destroyed, notwithstanding all the corruptions in a man's heart, the pollutions of the world, and the temptations of Satan."
Man is fallen and lives in a fallen body, but when man comes to Christ, he is treated by God as if he is already glorified, even though the corruption of this world continues on in Him. Through God's unconditional decree, the man is anointed, and he remains anointed until the day he is brought to the final state of glorification. This is a work of God and it is accomplished in God's mind. John then says of this state, "and you do not need that anyone teach you."
These words are taken to unhealthy extremes by Christians who are unwilling to spend the time necessary to learn theology. Depending on a verse such as this to justify a specially revealed knowledge placed actively into their mind by the Holy Spirit is not what this is referring to. Rather, John himself is providing teaching and instruction (and he will continue to do so) in this epistle. Further, nobody has knowledge without studying and contemplating things.
One will not, and cannot, know the book of Romans unless he reads it. John here is saying that it is the Lord, through the Holy Spirit, who provides proper doctrine. John's letter is just such a means of obtaining that, as are all the words of Scripture. Believers do not need anyone to tell us the doctrines of God – salvation, justification, right and holy living, and so on. Rather, God tells us those things through His word. We have received the anointing of the Lord, and it is the Lord who has given us His word. That is where we go to find instruction.
With this understood, John continues with, "but as the same anointing teaches you concerning all things." There is a slight variation in some texts here which reads, "His anointing." That would mean "Christ's anointing." As it says in the first clause, "from Him," and because it is speaking of Christ, this is to be understood with either text.
It is the anointing of Christ which teaches us all things concerning salvation – both immediate and in its eternal effects. It is that word which was received by John and the other apostles, and which is carefully laid out in Scripture. In this anointing, which came through calling on Christ, John next says, "and is true, and is not a lie."
This is taking the reader back to verse 22, which said, "Who is a liar but he who denies that Jesus is the Christ?" There is the true anointing, and there are false teachings. The true anointing comes from the acceptance that Jesus is the Christ, the Son of God, and thus fully God. This is the truth of God in Christ, and it is not the lie of the antichrist.
In the acceptance of who God is in Christ, the person is anointed with His anointing, and he now has no need for anyone to teach him. He has been taught, and he has moved to God in Christ, and he has been given eternal life. This is then confirmed by John as he closes the verse with, "and just as it has taught you, you will abide in Him."
There is another variation in texts here. Instead of "you will abide," it says, "you abide." It is present indicative. You do abide, and you will continue to abide. This seems the preferable reading based on his other words of surety. The action is complete, its effects are ongoing, and the person has been granted eternal life. This is the truth of God in Christ. It is not a dubious hope which may be lost through man's efforts or failings. Rather, it is a surety which is provided to the one who trusts in God's offer of Jesus Christ.
Life application: There is one baptism into the Holy Spirit, and only one. This comes the moment a person truly believes in his heart that Jesus is Lord. For someone to speak about a "Holy Spirit Baptism" apart from this occurrence is to completely misunderstand what happens in the believer. Paul sums up this doctrine in Ephesians 1:13 –
"In Him you also trusted, after you heard the word of truth, the gospel of your salvation; in whom also, having believed, you were sealed with the Holy Spirit of promise…"
Because of the baptism (seal) of the Holy Spirit, believers have received the permanent and eternal anointing. The Spirit of God – the Spirit of Christ – becomes a part of their existence. The Holy Spirit convicts us of wrong doctrine, but He doesn't force right doctrine on us. We must follow His leading to determine truth. If we reject the leading, our doctrine will falter.
In order to ensure we stay in tune with His wishes, the second thing we must do after His baptism is to be filled – a repeatable occurrence – with Him. When we are disobedient and sin, the Holy Spirit's filling decreases. When we live for Christ, we are filled anew. This is the working of the Spirit and it is through this process that we learn to determine truth from falsehood. The truth we learn will abide in us because of the power of God through the working of His Holy Spirit.
Thank You, O God, for the baptism of Your Holy Spirit. Thank You that You would condescend to dwell, even in us, and to lead us to all truth as is revealed in Your precious word! Fill us today and each day with Your Spirit as we open ourselves to You through study, prayer, fellowship, and praise so that we will be exemplary students in the knowledge provided in the pages of the Holy Bible! Amen.