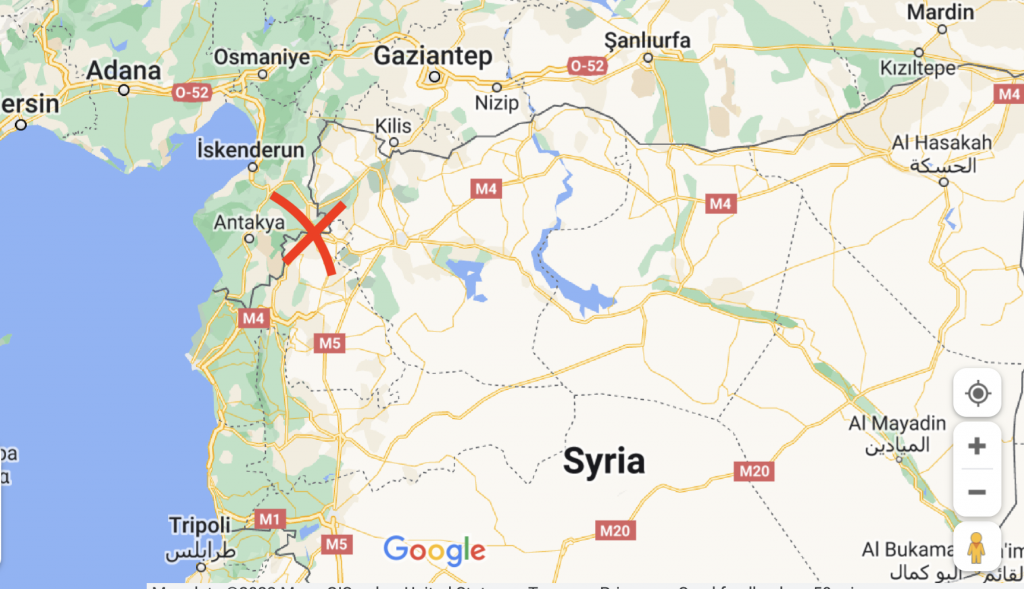 Area of Antioch in Modern Syria.
Monday, 12 December 2022
Now in the church that was at Antioch there were certain prophets and teachers: Barnabas, Simeon who was called Niger, Lucius of Cyrene, Manaen who had been brought up with Herod the tetrarch, and Saul. Acts 13:1
Note: You can listen to today's commentary courtesy of our friends at "Bible in Ten" podcast. (Click Here to listen).
You can also read this commentary, with music, courtesy of our friends at "Discern the Bible" on YouTube. (Click Here to listen), or at Rumble (Click Here to listen).
The previous verse ended Chapter 12 with Barnabas and Saul returning from Jerusalem and having taken along John Mark. With that, it now says, "Now in the church that was at Antioch."
This is where Barnabas and Saul had been sent from, and it is where they had now returned to. The detail provided here is setting up the narrative in a way that will henceforth highlight the ministry of Paul. To do that, there must be a separation of him from the main body to highlight what he will do. That begins to come about with the words that in Antioch "there were certain prophets and teachers."
The words here indicate two classes. It may be that some prophets were also teachers, but they are two distinct offices. Paul notes this in 1 Corinthians 12 in a list there –
"Now you are the body of Christ, and members individually. 28 And God has appointed these in the church: first apostles, second prophets, third teachers, after that miracles, then gifts of healings, helps, administrations, varieties of tongues. 29 Are all apostles? Are all prophets? Are all teachers? Are all workers of miracles? 30 Do all have gifts of healings? Do all speak with tongues? Do all interpret? 31 But earnestly desire the best gifts. And yet I show you a more excellent way." 1 Corinthians 12:27-31
Of these two offices now noted in Acts, the individuals named are:
Barnabas. This is Barnabas who has already been seen several times and who traveled to Jerusalem with Saul and then returned with him.
Simeon who was called Niger. The name Niger is Latin, and it means "Black." He is only mentioned here in Scripture, and it can be inferred that he was especially dark-skinned. The designation was probably given to him so that he would be distinguished from other people named Simeon. Being dark may mean that he had an African heritage, or it could simply be he was dark-skinned because of working outdoors as was the case with the Shulamite in the Song of Solomon –
"I am dark, but lovely,
O daughters of Jerusalem,
Like the tents of Kedar,
Like the curtains of Solomon.
6 Do not look upon me, because I am dark,
Because the sun has tanned me.
My mother's sons were angry with me;
They made me the keeper of the vineyards,
But my own vineyard I have not kept." Song of Solomon 1:5, 6
Lucius of Cyrene. Of this person, Vincent's Word Studies states –
"Attempts have been made to identify him with Luke the evangelist; but the name Lucas is an abbreviation of Lucanus, and not of Lucius. It is worth noting, however, that, according to Herodotus (iii., 131), the physicians of Cyrene had the reputation of being the second best in Greece, those of Crotona being the best; and that Galen the physician says that Lucius was before him a distinguished physician in Tarsus of Cilicia. From this it has been conjectured that Luke was born and instructed in medicine in Cyrene, and left that place for Tarsus, where he made Paul's acquaintance, and was, perhaps, converted by him (Dr. Howard Crosby, "The New Testament, Old and New Version"). But, apart from the form of the name (see above), the mention of the evangelist's name here is not in accord with his usual practice, since he nowhere mentions his own name, either in the Gospel or in the Acts; and if the present passage were an exception, we should have expected to find his name last in the list of the worthies of Antioch. Of the five here named, four are known to be Jews; and therefore, probably, Lucius was also a Jew from Cyrene, where Jews are known to have abounded. Luke the evangelist, on the contrary, was a Gentile. Nothing certain can be inferred from Romans 16:21, where Lucius is enumerated by Paul among his kinsmen. If συγγενεῖς, kinsmen, means here, as is claimed by some, countrymen, it would prove Lucius to be a Jew; but the word is commonly used of relatives in the New Testament. In Romans 9:3, Paul applies the term to his fellow-countrymen, 'my brethren, my kinsmen according to the flesh, who are Israelites.'"
There are other reasons for not accepting this person as being Luke. First, there are various "we" sections in Acts, meaning that the author is personally including himself in the narrative. The first such section begins in Acts 16:10. Such is not the case now in Acts 13. Second, and again, it has not been perfectly determined if Gentiles are even included in the church at Antioch at this point. And third, there is no note of Luke being either a teacher or a prophet elsewhere. He is noted as a doctor (physician), however, in Colossians 4:14. There, it says, "Luke the beloved physician and Demas greet you."
Manaen. Of him, it says, "who had been brought up with Herod the tetrarch." The word translated as "who had been brought up" is suntrophos. It is rendered by some as "foster-brother." Others say, "close friend," "member of the court," "comrade," and so on. The word comes from two roots signifying "together" and "nurse." Hence, he is a fellow nursling. As such, it can mean either a foster brother or something similar, such as being brought up in the same court.
Saul. This is Saul of Tarsus who will soon be almost exclusively known by his given name, Paul.
Life application: It is important to know the details of what is going on in the Bible. Seemingly small and irrelevant details, such as Luke being a Gentile, can make a large difference in the minds of those who read and teach the word.
For example, it has been argued that Luke must be a Jew because of what it says in Romans 3:2 where Paul notes that it is to the Jews that "were committed the oracles of God."
This is what is known as a category mistake. Luke and Acts were not yet a part of the canon of Scripture. Paul was speaking of the Old Testament which pointed to Christ. It further means that they were entrusted with these oracles, not necessarily that they had all been written by Jews. Job was a Gentile, and he may (we do not know) have been the author of his book.
Regardless of Job, the New Testament is not the Old, and Paul's words do not apply to what is being referred to in Romans 3:2. And yet, despite Paul's clear and obvious words here, people will still make up false analyses concerning Luke to justify their presuppositions. This is a very bad way of handling the word of God.
Paul mentioned various Jews in Colossians 4 (above), noting that they were the only ones of the circumcision, or Jews, who were with him. One plus one will always equal two. In the case of Luke, because he was not a Jew, he was – by default – a Gentile. In ignoring this, a faulty sense of what God has done and is doing in the Bible will result. As such, we must hold close to the word, never abusing what it conveys because of a sense of pride or arrogance concerning something like "only the Jews brought us the word of God."
If the Bible teaches that Luke was a Gentile, which it does, but you are stuck with a presupposition that he was a Jew (or a proselyte to Judaism), get over it. Luke was a Gentile.
Lord God, help us to accept what Your word teaches, and then to be obedient to it. It is too precious to be trifled with because we don't agree with it in our own minds. Who are we to argue against what You have done. Help us to accept it as You have given it to us so that our doctrine will be pure. Amen.