In the Bible, we're taught that we are created. God created us to have a relationship with Him, but Adam, our first father disobeyed God's law. Because he did, we inherited his sin. Now there is a divide between God and man. 
                    God                                  /////// X ///////                                 Man
The Bible teaches that God is perfectly righteous and therefore, like a judge, he must convict those who are guilty of breaking His laws. Imagine looking at a person through a pane of glass. If the glass has mud all over it, you don't see the beauty of that person, you see the mud. This is what it's like when God looks at us. He sees our sins and because He is perfectly holy, he cannot accept us this way. Instead, he must judge our sins.
However, Jesus came and lived the perfect life that Adam didn't. He repaired the divide. It is by faith in what God has done, through Jesus Christ – the God/Man – that we are restored to a right relationship with God. Jesus took all the sin and judgment that each of us deserves and was crucified on a cross. In that moment he became our sin and our guilt.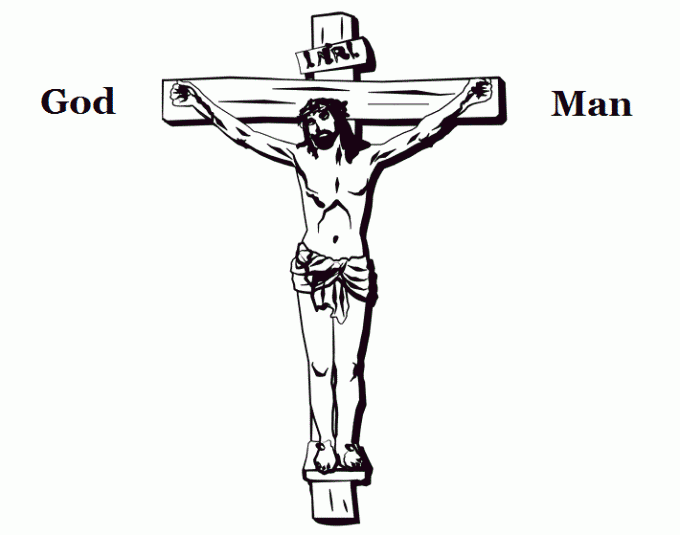 Now when we put our faith in Jesus Christ, God no longer sees our sin. Instead He sees Christ's perfect obedience and righteousness. God has done all the work necessary for man to again live in His presence. The cross is the bridge that made this possible. It was at the greatest cost of all that man has been bought back from sin and death to eternal life through Jesus.
There is none righteous, no, not one; Romans 3:10
The Bible tells us that because we have a sin nature, we are unrighteous in God's sight.
– Don't look to your own goodness to save you.

…for all have sinned and fall short of the glory of God, Romans 3:23 
We all have sin in our hearts – it's our very nature to sin. We all were born with sin and without Jesus we are under the power of sin's control.
– Admit that you are a sinner.
 For the wages of sin is death, but the gift of God is eternal life in Christ Jesus our Lord. Romans 6:23
Sin results in death and we all face physical death, the result of sin.  But worse is our spiritually dead condition that has alienated us from God. Unless we're reborn, it will last for all eternity.  The Bible clearly teaches there is a place called the Lake of Fire where lost people will be destroyed.   It's the place where people who are spiritually dead will remain.
– Understand that you deserve death for your sin.
However, salvation is a gift from God to you!  You can't earn this gift; instead you must reach out and receive it.
– Ask God to forgive you and save you.
But God demonstrates His own love toward us, in that while we were still sinners, Christ died for us. Romans 5:8
When Jesus died on the cross He paid the penalty for our sin – all our sin. He bought us out of slavery to sin and death! The only requirement on our part is that we believe in Him and what He has done for us, understanding that we are given new life through Him, and that He is our life.  He did all this because He loved us and gave Himself for us!
– Accept the gift!  His love alone saves you — not religion, church membership, or family heritage.  God loves you, and the gift is waiting!
For "whoever calls on the name of the LORD shall be saved." Romans 10:13
Do it today! Make it known that you are standing for Christ and the Gospel.
– Call out to God in the name of Jesus!
…that if you confess with your mouth the Lord Jesus and believe in your heart that God has raised Him from the dead, you will be saved. Romans 10:9
The term "justification" as used in the Bible is a legal term. When you call on Jesus, you stand righteous in God's eyes. You can never stand condemned again because Christ's perfect righteousness has now been given to you. Every sin you have ever committed or ever will commit is now covered by the precious blood of the spotless Lamb of God.
– You know God is knocking on your heart's door, so ask Him to come into your heart. Believe in your heart and confess it with your mouth!
To understand a little of what Jesus Christ suffered, take time to read Isaiah 52:13 through 53:12. Isaiah is the 23rd book of the Bible. It was written 700 years before Jesus Christ came and foretold His mission to save us.
See, my servant will act wisely;
he will be raised and lifted up and highly exalted.
Just as there were many who were appalled at him—
his appearance was so disfigured beyond that of any man
and his form marred beyond human likeness—
so will he sprinkle many nations,
and kings will shut their mouths because of him.
For what they were not told, they will see,
and what they have not heard, they will understand.
Who has believed our message
and to whom has the arm of the LORD been revealed?
He grew up before him like a tender shoot,
and like a root out of dry ground.
He had no beauty or majesty to attract us to him,
nothing in his appearance that we should desire him.
He was despised and rejected by men,
a man of sorrows, and familiar with suffering.
Like one from whom men hide their faces
he was despised, and we esteemed him not.
Surely he took up our infirmities
and carried our sorrows,
yet we considered him stricken by God,
smitten by him, and afflicted.
But he was pierced for our transgressions,
he was crushed for our iniquities;
the punishment that brought us peace was upon him,
and by his wounds we are healed.
We all, like sheep, have gone astray,
each of us has turned to his own way;
and the LORD has laid on him
the iniquity of us all.
He was oppressed and afflicted,
yet he did not open his mouth;
he was led like a lamb to the slaughter,
and as a sheep before her shearers is silent,
so he did not open his mouth.
By oppression and judgment he was taken away.
And who can speak of his descendants?
For he was cut off from the land of the living;
for the transgression of my people he was stricken.
He was assigned a grave with the wicked,
and with the rich in his death,
though he had done no violence,
nor was any deceit in his mouth.
Yet it was the LORD's will to crush him and cause him to suffer,
and though the LORD makes his life a guilt offering,
he will see his offspring and prolong his days,
and the will of the LORD will prosper in his hand.
After the suffering of his soul,
he will see the light of life and be satisfied;
by his knowledge my righteous servant will justify many,
and he will bear their iniquities.
Therefore I will give him a portion among the great,
and he will divide the spoils with the strong,
because he poured out his life unto death,
and was numbered with the transgressors.
For he bore the sin of many,
and made intercession for the transgressors.
If you've never committed your life, soul, and eternal destiny to Jesus Christ then do it now! Turn to God through Jesus and He will give you a new heart and a new direction which will be your peace.
"God, I know I'm a sinner, I'm lost, and I need to be saved.  I know I can't save myself, so right now, once and for all, I trust You to save me.  Come into my heart, forgive my sin, and make me Your child.  I give You my life.  I will live for You as You give me strength."
If you took the time to accept Jesus, you may now shout "Whoo Hoo – I'm saved by the precious blood of the Lamb!" I rejoice with you and I'll see you in His presence some glorious day…